Oct
22
My last post left me walking blissfully in the park, but I'm an electronics engineer, right? I'd better get back to my workbench, those circuit boards aren't going to solder themselves. Except that I started noticing things in the park I hadn't noticed before…
Wildflowers, in particular. Not all that many years ago, I happened to be the proud owner of a newfangled iPhone, and I was looking for clever ways to justify my purchase. When I was much younger I fiddled with photography and even developed my own prints a few times, but I hadn't really spent much time with a camera since — it was always too much trouble to keep one handy. Of course smartphones have largely solved that problem, and so I found myself taking wildflower photos with my shiny new camera-phone and posting them online, hoping someone could help me figure out what they were.
Then I figured out how to add a magnifying lens in front of the iPhone's then non-macro-capable camera to get some fairly nice close-up shots. Like many other frustrated wannabe botanists and naturalists out there, my efforts to catalog and comprehend the wildflowers and other interesting plants I found using Flickr were fun at first, but found limited success.
Then I started paying more attention to birds. I was largely inspired by my sister Thana, who got her undergrad degree in wildlife biology and is a serious and lifelong birder. Her latest visit out west a few years ago sealed the deal, as we went birding and wildflower hunting from King's Canyon to the Kern River Valley to Joshua Tree National Park to right here in McLaren Park. I was thrilled at her ability to just glance at a bird and know what it was, or to hear a commotion in the distance and say "oh, those are Cedar Waxwings over there".  I was hooked, and started to seriously observe our avian friends whenever I got the chance, joining local bird walks and even the Christmas Bird Counts. I still struggle sometimes to ID even the obvious ones, but I've also had some amazing experiences just watching and trying to figure it all out.
And then butterflies! Save McLaren Park has helped gather volunteers to help with the McLaren portion of the annual SF butterfly count for the last few years, and they have been a revelation to me. Birds are generally skittish around humans (and some of their more adventure-seeking canines) but butterflies flitter around in their own universe, not really seeing or hearing us anthropods unless we get right up in their antennae. There are only a handful of species to keep track of in local open spaces, so after you've been paying attention for a little bit you start identifying the regulars on sight and tuning your senses for the more unusual ones that might pop up. Every walk in the park became a treasure hunt:  "Hey look at that butterfly!" "Hang on, I'm taking a picture of this wildflower…"
Earlier this year, a newly-formed group calling themselves Nerds For Nature contacted us to see if Save McLaren Park might be interested in helping with something called a bioblitz. So what's a bioblitz, we asked? Well, a bioblitz is an attempt to observe and catalog as many species as possible in a certain geographic area within a set period of time. The Nerds were eager to use a new crowd-sourced software platform called iNaturalist to supercharge the effort.
So we brainstormed and organized and walked the park together to figure out the best way to proceed. Bioblitzes aren't a brand new idea, National Geographic pioneered the concept over a decade ago. But using the crowdsourcing power of iNat was fairly new to the bioblitz experience. The developer of iNat, Ken-ichi Ueda, was on board, as was his new colleague Scott Loarie, and we rounded up a few local naturalists to help lead the effort.
I wrote a guest post for the new Nerds For Nature blog, Saving McLaren Park: Urban Parks Need Nature Nerds. Others on the Nerds team, especially co-founder Dan Rademacher, who was at the time managing editor of Bay Nature Magazine, publicized the heck out of our upcoming field event. Then we anxiously watched the EventBrite list slowly but surely rack up the reservations.
The Big Day was nothing short of epic! We had a clear sense of making history, but we were also worried silly that all the fuss would somehow fall flat. By the end of the day, we were exhausted and giddy, but no longer worried. Our results had wildly exceeded our expectations, and we had almost 200 species noted, and well over 1000 observations.
The excitement didn't stop, as the results continued to trickle in over the following few weeks. By the time the counting was done, we confirmed 250 species within the four designated bioblitz zones of McLaren Park, largely by folks who didn't really have an idea of what they were observing. Here's how I explained it to Dan Rademacher for his KQED Science Blog post on the event:
"When the city developed the [San Francisco] Natural Areas Plan back in the 90s, there was this huge project to get all these professionals mapping out all this stuff," said Ken McGary, a leader of Save McLaren Park who lives nearby. "Now 15 or 20 years later, we did something similar with a few experts and volunteers. And we're also inspiring a new group of naturalists."
How is this even possible, one might wonder, but the results speak for themselves. Crowdsourcing, or distributed problem solving, has come to the public's attention due to projects like Wikipedia and KickStarter, but iNat takes the concept a few steps further. It solves several problems at once — the observer gets to learn about her natural surroundings, local park visitors get to take advantage of the newly collected knowledge through electronic field guides like this one for McLaren Park (that I am the curator for), and local park managers get a better idea of what's really going on in the park's wildlife areas.
Ken explains the origins of the Electronic Field Guide to McLaren Park in a KQED Radio news brief:
But that's just the beginning, really. The other naturalists who are helping you ID your findings are also honing their observation skills, having fun chatting with other experts about whether it really is this or that, racking up their species scores, and feeling really good about helping along all of these newbie nature nerds. And for the meta-icing on this big biodiversity cake, all of the confirmed observations wind up in both the Global Biodiversity Information Facility (GBIF) and the Encyclopedia of Life, where researchers all over the world can make use of it.
I was so thrilled with the results of the event, and so impressed with the caliber of folks in the Nature Nerd cadre, that I jumped in with both feet! I starting going to Nature Nerd meetings and helped plan and publicize several more events. Then we joined up with California Academy of Sciences and the Parks Conservancy to blitz Fort Funston, part of the GGNRA in San Francisco's southwest corner. This was another wild success, as I detailed on the Nerds blog, with quite a few interesting discoveries and another very impressive plant and animal list of about 200 species confirmed.
Then just a few weeks ago we joined with Sequoia Audubon to bioblitz Laurelwood Park/Sugerloaf Mountain, in the peninsula city of San Mateo. Sandwiched between El Camino Real and the 280 freeway, this 200-acre slice of open space was saved from development just a few decades ago, so there had been no official wildlife surveys.  The Laurelwood/Sugerloaf bioblitz literally put this park on the biodiversity map.
I'm no statistician, but even I know that three huge successes like this in a row is a long way from a chance occurrence. So we've compiled some ideas for how others might do their own bioblitz events, both in a longer version and most recently condensed into 10 Steps to Bioblitz.
So what's next? I predict that 2014 will go down in history as "The Year Bioblitzing Went Viral — In A Good Way".  Remember, you heard it here first! As initial evidence, we're still a few months away and there are already several Bay Area events in the planning stages, from Oakland's Lake Merritt and other East Bay parks to San Francisco's downtown green spaces, to the entire Golden Gate National Recreation Area at the end of March (where " iNat-ing"  will be one of many cool nature activities).
And that's just the beginning! The California Academy of Sciences has been sponsoring citizen science forums among land managers and naturalists and hopes to eventually help bioblitz open spaces across the entire state. We also hear that Sequoia Audubon is planning to eventually bioblitz every park in San Mateo County, and hopes to hold several events next year. We've also heard from groups in Chicago and Washington, D.C. who have recently done iNaturalist bioblitzes with similar results.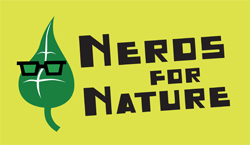 Nerds For Nature has even been in recent discussions with DIY biology group Counter Culture Labs around the idea of collecting tissue samples at future bioblitzes to perform DNA barcoding, something like the Barcoding Alaska project. This is an exciting prospect! Taking pictures of plants and animals to ID them is pretty nifty. But having your name on the very first DNA barcode sample ever taken of a particular species is quite another thrill.
So how do you jump into this exciting new trend of observing and understanding the biodiversity all around us with just the phone in your pocket? You might as well start by installing the iNaturalist app. Then check out the following videos to get oriented, and peruse the iNat Help pages for more information. Or send me a note on my iNat homepage and I'll try to point you in the right direction. By the way, I understand that there's a super duper new iPhone-friendly version of the field guide iNat app coming soon, so we've got even more fun to look forward to.
If you'd like to join us in the Nature Nerd revolution, sign up for our N4N meetup group and show up at an upcoming Project Night like the one scheduled for Tuesday, October 29 in Oakland. Or join our Google Group. Bioblitzes and a whole lot more are being planned as I type, so don't miss out on the fun!
Creating an iNaturalist account (youtube)
How to use the iNaturalist app (youtube)